Hi! We're so glad you came to check out our site. We are Daryl and Tina Pilon and we have lived in Lancaster, PA all our lives. It blesses us that we are able to share with others some of our heritage in this beautiful land. During your stay here you will learn much about the Amish culture and the area attractions, but we'd like to tell you a little about us for now.
Daryl is a full time Sales Engineer and Corporation Space Designer who helps coordinate plan and design their office space to be an efficient and pleasant place to do business. He has a part time consulting business helping people have a more fulfilled and financially secure life.
Tina is a Home Interiors Designer and thoroughly enjoys using the talents she's accrued (over the 17 years she's been in the business) to make your stay here even more enjoyable. Daryl and Tina have spent much of their spare time remodeling, adding new equipment (such as whirlpool tubs) and decorating these lovely homes with your comfort and pleasure in mind.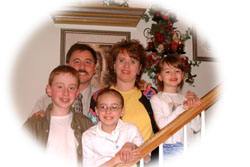 The children, Derek, Katelyn and Savanna, are great helpers, as well. When he's not helping at a Guest House, Derek (age 17) can often be found playing the acoustic and bass guitar, the trumpet, or learning to play the keyboard. He loves music and enjoys leading the youth group worship service at his Church. He has a sweet job working for the Fudge Shop at the Kitchen Kettle in Intercourse, also at the Big Bunny Fudge Shop at Dutch Wonderland. He will soon be attending college at Christ for the Nations International, with an emphasis on worship leadership.

Katelyn (14) is the middle child and is an honor roll student. She wants to continue her education in field hockey, as she loves sports. She works part time for Big Bunny's at Dutch Wonderland, as well, and wants to have her own bakery someday. She also enjoys talking to her friends on the phone, being on the computer and fellowshipping with her buddies.
The Youngest is Savanna. She is 10 years old and will give you the shirt off her back if you need it. She is very intelligent, has a heart of gold, always willing to help and always there when you need her. Savanna's ambitions are to get on American Idol, and be a Veterinarian, as she loves animals.